Side City Studios Ratings
Our review team has rated Side City Studios on the categories below and Side City scores a great 51% ratings overall.
Introduction to Side City Studios
Side City Studios is a wholly owned subsidiary of the NYX Gaming Group and have been in operation since 1999, and is based in Montreal, Canada.
They are a third party game studio developer for online, land based, and social gaming markets and provide full  service turnkey solutions to some of the largest gaming companies worldwide. Side City has developed some of the best performing content in the industry with their high quality, premium graphics and unique math models.
The professional production teams work in constant synergy with meticulous attention to detail and rapid execution to meet the company's high standards of quality. Their approach to work is based on fully utilizing all the combined knowledge, experience and expertise. The aim is also to maintain close relationships and trust with clients, always providing high quality productions that meet with their expectations. Side City embraces advances in technology that could benefit various sectors of the industry.
Working closely on projects with their partner clients they can develop new fields of expertise which will improve and broaden the range of services. These partnerships with clients have enabled Side City to break into various markets, such as: Games of chance for Lottery and Casinos, Related Online products, Games and applications for the i-Phone,
High-Definition (HD) interactive video and television production, Digital Cinema, Digital Signage, Visual Scenography, Video games on console, Online and PC .
Side City Studios boasts they can create games with HD graphics and 3D animations.
Players can expect a sensory experience that is the same as the other developers in the NYX Interactive group.
Side City Studios offers a secure work environment where clients are guaranteed the utmost confidentiality on all projects.
Working at Side City is widely considered a privilege and the artists are renowned for their sophisticated creations.  The varied fields of expertise include design, animation, illustration, 3D, graphics, scripting and editing. Above all, Side City creates the best of game slots due to their passion and dedication for gaming and gambling!
How Many Games does Side City Studios Have?
When it comes to the slot machines, Side City Studios does not offer many online titles currently. They have only released 2 titles through the NYX Interactive platform: Fortunes of the Amazons and Egyptian Rise.
How did Side City Studios Begin?
Side City Studios was established in 1999 having produced many great slots over the years. In 2015, the company was acquired by the NYX Gaming Group. Since then, it has become easier for Side City to promote their games which can be found on numerous online casinos.
What type of Slots and Games does Side City Studios offer?
Since Side City was acquired by the NYX Gaming Group, they have only released 2 games on the new platform, Egyptian Rise and Fortunes of the Amazons. These games feature 3D animations, HD graphics and 243 ways-to-win. These 5 Reel slots have been optimised for mobile playing platforms with special HTML5 programming.
Fortunes of the Amazons is based on Greek mythology about fierce women warriors who were known for their prowess, skill and bravery in battle. The slot is designed to emulate a comic-book style with mythological and military iconography.
Egyptian Rise depicts the ancient civilisation through a vibrant set of neon-lit game symbols. The futuristic symbols such as the Egyptian pharaohs Nefertiti and Tutankhamen resemble something from a science fiction cult!
Does Side City Studios have a Mobile Platform?
There are only the 2 slots attributed to Side City Studios in the NYX Interactive catalogue, but there will surely be more to come in the near future. Players can enjoy the feature-rich video slots action on any mobile device, as long as they have good internet connection.
Demo versions for both games can be found on the NYX Interactive website.
Side City Studios also produces iPhone Applications which include casual games, interactive and non-interactive promotional products and applications.
Feb 20, 2019 by
Topboss Group
Casino Software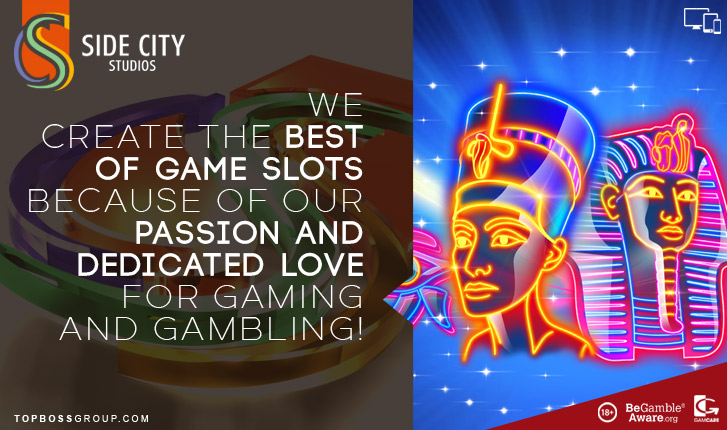 Side City Studios