Slots are the most popular games both in online and in land-based casinos. Many people choose to play the slot machines because they offer entertainment and the chance to relax. Unlike skill games like poker or blackjack, they are very easy to learn and they don't require much effort from the player, other than pushing a button.
They also come in a great variety of forms, with different themes, sounds, and payout tables, so it is very hard for a slots enthusiast to get bored while playing these games. Whether one chooses to play online or in a land-based casino is a matter of personal preference, although the convenience of the internet version is hard to surpass. On the other hand, a trip to Vegas or to the nearest casino is a fascinating experience for every gambler, one that goes beyond just playing slots.
Online or Live Slots?
Sometimes it is hard to decide which option is the best. In terms of functioning, there is hardly any difference between online and live slots. The machines in the brick and mortar casinos have been computerized, and they use software and random number generators, just like the ones you will find in online gaming. The times when playing live slot machines involved the pulling of a mechanical lever are gone. Moreover, the experience you get at the online version is identical to the one offered by a real slots machine, since the design and the sounds are generated by software in both cases.
While playing table games like craps or poker through a computer is essentially different, with you sitting alone in your room, because you have less chances of interacting with fellow players, when it comes to slots, you get the same feel and you can play at similar machines. This is why players have no difficulties whatsoever adjusting to the online gaming environment.
Slot Game Choices
Large land-based casinos will usually have a room filled with slot machines, but they cannot match the variety offered by online gambling. When it comes to the latter, there are no limitations of space, so the casinos can add new games all the time, and they will do this to attract new customers. There are hundreds of different games to choose from on the casino sites, and you can play any of them, all the time. You don't need to worry that your favorite machine will be occupied by someone else, or to stay in line in order to play, you always have instant access to any game, and it is a lot easier to move around and try different ones.
Online casinos constantly strive to expand the choice of games, to add unique ones, and of course to enhance the software they use in order to have better quality graphics and a more realistic gaming experience. All this variety may be confusing for beginners, but the good news is that they have the chance to explore the various types of slots without spending any money.
Comps or Bonuses?
Most online casinos have free games which allow them to learn how to play and discover the kind of slots they like the most. Unlike in land-based casinos, here you get the opportunity to have several hours of risk free fun, and you can easily go from one casino to another to discover which one has the best selection of slots. The various types of bonuses are another advantageous feature of online gambling. Live casinos will probably offer some kind of comp, such as free drinks if you spend a lot of time playing, but online you will get a sign up bonus just for choosing one casino over the other.
The best thing about bonuses is that you will get extra credit, that you can use to play slots for a longer period of time, and subsequently increase your chances of winning. Online there are no expenses involved either, whereas most people would have to travel to a gambling destination, spend money on a hotel room, food and tips in case they want to play a live game. So it is a lot cheaper to play through the internet, and you can do it without any kind of inconvenience.
The slots room in a brick and mortar casino is usually packed full of people. There are some who enjoy the atmosphere of a live casino, the crowd, the sounds and the sights it offers, while others find it distracting. It is certainly unpleasant if you have a line behind your back waiting for you to leave the slot machine, and you cannot even go to the bathroom if you want to keep on playing.
There are large crowds playing slots online as well, but people do not bother each other. In fact, many players is a good news if you like progressive slots, because the jackpot will increase substantially within a short period of time, and you have the chance to win a larger amount of money. A trip to a Las Vegas casino can become an unforgettable experience, and just being there is well worth the expenses and time for many gamblers. However, these trips don't happen very often for most of us.
All the preparation and planning they require, not to mention the cost, makes them something we rarely get to enjoy. This doesn't mean that we cannot spend some time playing slots or other casino games on a weekly or even daily basis. Online casinos offer us the opportunity to have some fun at the slot machines whenever we have a bit of free time. If you feel it may be your lucky night, they are definitely worth a try, however please always remember that at the end of the day – the casino has the house edge and playing slot machines should primarily be for entertainment only and if you win , its a lucky bonus but be aware that this will not happen all the time, so keep within your budget and don't gamble more than you can afford to lose.
The Ultimate Guide to Gambling Addiction: This guide explains in depth how gambling addiction may arise and offers practical steps to overcoming gambling addiction.
Nov 08, 2019 by
Topboss Group
Online Casino Reviewer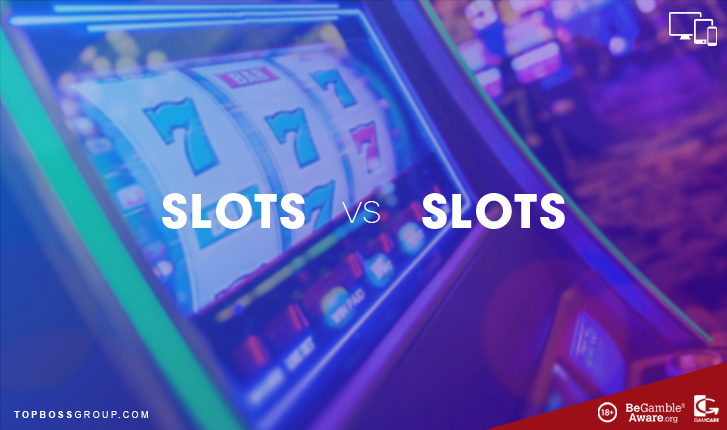 Playing Online Slots vs Real Slots