Old Skool Studios Ratings
Our review team has rated Old Skool Studios Casino Games on the categories below and Old Skool Studios scores a great 64% ratings overall.
Introduction to Old Skool Studios
Located in the beautiful city of Vancouver, Old Skool Studios is run by a group of entrepreneurial-minded, talented Casino Gaming professionals.
The Old Skool Studios designers and developers are passionate about the games they create with a portfolio of outstanding and immersive games.
The team pushes boundaries to provide a rewarding and memorable gaming experience. Outside of their own portfolio of games, they have been providing competitive world-class development and co-production partner services since 2010.
They have been creating top quality casino games focused on a strong narrative with superb graphics and sounds.
The team envision games they would love to play, and then set out to create these unique games with immersive, engaging, story-driven themes which cannot be found anywhere else.
Old Skool Studios has seen their games included on some of the best platforms, including Microgaming's Quickfire. Other major clients include BC Lottery, Coral Casino, GameHouse, IGS, Mr. Green, Neowiz and Rocket Gaming for both real money and social play.
Old Skool Studios also regularly attends iGaming trade shows such as the Global Gaming Expo (G2E) and International Casino Expo (ICE).
Mike McGraw – Executive Producer – Creative studio veteran with 30 years experience.
Mike oversees studio operations and team projects.
Lily McGraw – Creative Director – Designer with 26 years of expertise across multiple disciplines from games to software.
Lily provides creative and technical leadership with studio projects and client services. As a talented designer and artist she is also responsible for the concept and design of the game narrative and art style.
Chris Smith – Director of Technology – software developer for over 20 years with a strong focus on HTML5 web applications.
Old Skool Studios motto is that they don't 'just make games' rather they 'create experiences' for players!
How Many Games does Old Skool Studios Have?
Old Skool Studios has 15 titles since they first started making games. 11of these are games were created as an outsource partner to other providers. To date, only 4 games have been released under the Old Skool Studios brand.
How did Old Skool Studios Begin?
Old Skool Studios have been creating, designing, and developing online games since 2010 through their service studio, LM Design Werks. In 2011 they were the first developer to sign on with Odobo – their first step into the online
real-money market.
From there they went on to sign many new deals and today they have partnerships with some of the biggest and best casino operators.
Since 2014, the studio has focused mostly on creating in-house, real-money games under the Old Skool name. The primary goal is immersion where they focus on building a strong narrative for each game as well as providing solid maths behind the scenes. In 2014, they released the brilliant game Epic City which has been praised around the world for the unique designs, rewarding features, and high-quality graphics. Epic City was also launched through Microgamings´ Quickfire in 2016.
What type of Slots and Games does Old Skool Studios offer?
Old Skool Studios provides engaging, stylish and entertaining slots which have been built in HTML5. The games offer a mix of the most modern with throwback themes!
The games are all created with a strong base story and alluring themes and are playable in 24 languages.
Titles include Epic City, Jewel Quest, La Rouge, Magic of Isis and Temperance
Does Old Skool Studios have a Mobile Platform?
Old Skool Studios specializes in HTML5 development and mobile gaming. They offer a range of games and distinguished apps with innovative features and graphics.
The games are available across a multitude of devices such as Android, Blackberry, iOS and Windows. The graphics and gameplay will be the same on each platform, no matter which device is used. The games can be displayed in either landscape or portrait.
Jan 02, 2019 by
Topboss Group
Casino Software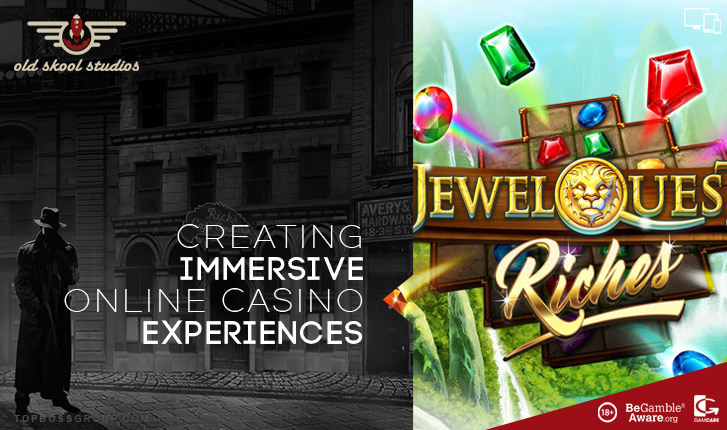 Old Skool Studios