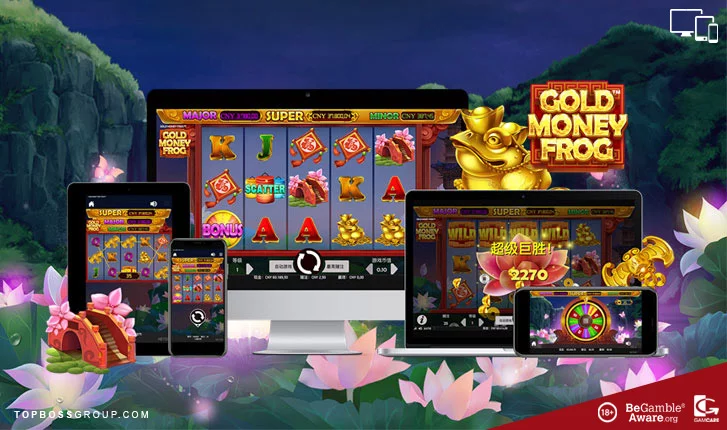 NetEnt Releases Gold Money Frog In Asian Markets
NetEnt has released Gold Money Frog a new exciting and mythical themed Asian progressive jackpot slots game, designed to attract the online gaming markets in Asia. Gold Money Frog by NetEnt has 3 Jackpot prizes where the players get the opportunity to spin the Jackpot Wheel and win 1 of the 3 Jackpots.
Asian Gold Money Frog Feng Shui
If you know anything about the Feng Shui money frog you will know it is said to attract wealth and abundance. Gold Money Frog's name is rather appropriate as Frogs and Toads are associated with water which in Feng Shui is a symbol of wealth. It is also common for a money frog to have a coin in its mouth as an offering, legends have turned the money frog into a magnet for wealth and good fortune.
Game Description
Gold Money Frog is a new Asian themed 5 reel, 3 row, 25 payline slot that offers you three progressive jackpots in the bonus round where you will spin the bonus wheel for a chance to win one of the jackpots. Gold Money Frog has an abundance of game features. These include Scatter Wins, Wilds plus the bonus game which is full of free spins. Get 3 scatters and start off with 10 free spins, get 5 scatters and you win 30 free spins.
Gold Money Frog Jackpot Wheel
The Gold Money Frog jackpot wheel has a huge 9.8% of its RTP ( Return to Player ) payable for Jackpot prizes. According to NetEnt, these Jackpots will pay very often. Therefore, Gold Money Frog is great for players who are in it to win big. The Jackpot Wheel offers 3 Progressive Jackpot prize levels a Super, Major and Minor jackpot.
Conclusion
In conclusion Gold Money Frog is a unique slot game with an RTP of 92.96%. NetEnt designed Gold Money Frog slots with a soundtrack that is soothing and visually it has the sense of calm. With lotus flowers in a pond, adding to the sense of karma and good things to come. Remember the symbol of abundance may just be what your bankroll requires. Gold Money Frog is a great slot game to play with free spins and bonus games. You should also take advantage of the 9.8% allocated to jackpot prizes.