NekTan Ratings
Our review team has rated Nektan Casino Games on the categories below and Nektan scores a great 74% ratings overall.
Progressive Jackpot Suite
Introduction to Nektan
Founded in 2011, Nektan is a global platform and service provider for the online casino industry. They were established to benefit from the explosion in mobile gaming opportunities.
Nektan is an international technology company which is listed on the London Stock Exchange.
The Nektan head office is based in Gibraltar, with additional offices in the UK, USA and India.
The staff at Nektan are flexible, easy to work with and committed to ensuring a world class service.
Nektan is known for developing their own brand of unique real money slots and casino games and is swiftly building an exciting portfolio of games including slots, casino games and mobile gaming. They are becoming one of the freshest new developers in the industry.
Nektan is essentially in charge of everything from the development and operation of casinos to customer care. They also take on the full regulatory responsibility and provides player tracking services and fraud prevention.
Nektan provides White Label and B2B E-Lite gaming software and services.
Evolve is the end-to-end technology platform used by Nektan.
Evolve enables the management of the full customer experience and back-office operations of a mobile casino. This allows the commercial partners to focus on marketing the products.
E-Lite offers promotional tools such as free spins, bonus wallets and API's which allows operators to reward players with bonuses.
Nektan works in partnership with major game studios to publish their games on RGS and they facilitate content delivery through their licensing structure and multiple business channels.
Through their US operating subsidiary, Respin LLC, Nektan can provide US land-based casinos with in-venue mobile gaming solutions.
Their award-winning interactive gaming platform, Rapid Games provides essential product strategy, business development and operational expertise to ensure a smooth launch of online casino products into the US regulated gaming market.
How Many Games does Nektan Have?
Nektan has developed over 21 different slot games and 2 casino style games.
What Awards Has Nektan Won?
Rapid Games Interactive Gaming Platform
How did Nektan Begin?
Gary Shaw founded Nektan in 2011 following a joint venture with GTECH.
In 2000, Gary joined Victor Chandler and contributed to the set-up of the world's first poker network which was launched together with Tribeca Tables.
Gary Shaw established the first European White Label gaming business and launched White Label deals with the Racing Post and Virgin Media.
Gary left Victor Chandler in 2002 and established St Enodoc, his own gaming company.
He launched a series of gaming business ventures such as the IPN Poker network with Boss Media, and in 2004 the IBN Bingo Network.
St Enodoc became the largest end-to-end White Label operator in Europe's with 84 partners in 24 countries. St Enodoc was acquired by GTECH-Lottomatica 2008 where Gary remained until he established Nektan in April 2011.
Nektan first went Live in November 2014 and their admission to AIM (formerly the Alternative Investment Market) helped to further enhance their growing profile and credibility with major partners.
In December 2014 Nektan brokered a deal with LeoVegas, which helped their unique mobile slot games be integrated into one of the top online casino brands.
February 2015 Nektan announced a partnership with News UK to develop 'Sun Play' specifically with mobile slots players in mind. This product offers 'freemium' and real money games.
What type of Slots and Games does Nektan offer?
Nektan provides slot machines, blackjack, roulette and bingo.
The games feature fluid and attractive animations providing a rich graphical experience on smaller interface mobile devices.
Their premium games are user-friendly with modern touch screen compatibility and highly intuitive bonus features.
'Best of British' is one of Nektan's most popular slots which is set against a Union Jack backdrop. This slot displays everything British from red buses to teapots, fish & chips and bulldog!
Another favourite is Carnival Cup which features the hype of the 2014 FIFA World Cup in Brazil.
Nektan games include a range of scratch cards and table games such as roulette and blackjack and they have made a deal with the UK commercial broadcaster Channel 4 to develop the new Freemium Bingo game based on the popular TV show, Come Dine with Me.
Does Nektan have a Mobile Platform?
All of Nektan game content is built in HTML 5 which is a specific mobile gaming technology base that allows products to be developed and deployed across all internet-enabled devices.
The games are fully compatible with all iOS and Android devices.
Dec 10, 2018 by
Topboss Group
Casino Software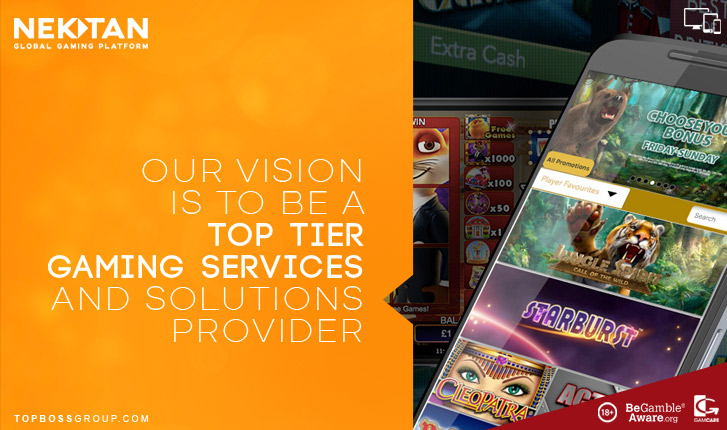 NekTan