MultiSlot Ratings
Our review team has rated MultiSlot Casino Games on the categories below and MultiSlot scores a great 66% ratings overall.
Progressive Jackpot Suite
Introduction to MultiSlot
MultiSlot has their headquarters on the Isle of Man. They are a casino solution provider dedicated to providing world class services, innovative products, customer support and the best possible gaming experience.
MultiSlot has an excellent team of game developers specializing in slots and casino software. Besides the main focus being on video slots, MultiSlot builds content for social gaming and mobile platforms. They also offer specialised products with bespoke solutions for the casinos they have partnered with.
MultiSlot software solutions are intended to be scalable and support casinos as they grow and increase their games portfolio. The games are known for being simple and fun with impressive graphics.
MultiSlot is committed to releasing between 8 to 10 new slots every quarter. The design of these new games is often based on feedback from operators as to which features and bonuses players are seeking. MultiSlot Game has released a number of proprietary features including their Bonus Rollover Indicator. This allows players to determine the amount of additional rollover it will take to unlock a particular bonus.
MultiSlot also offers a Back Office which has been designed for the needs of casino operators. This back-end software is designed to integrate typical online casino products such as account transactions, live casino and sportsbook betting. It also incorporates a powerful suite of tools with detailed analytics and smooth integration.
MultiSlot is focused on providing specialized, fresh and unique content. They also develop and maintain close client relationships and keep up to date with the best professional and practice guidelines.
How Many Games does MultiSlot Have?
Multislot features over 50 innovative games, it's not so much about the number of games they produce, and it's more about the quality and diversity.
The impressive games contain various themes with bonus features and high-quality graphics.
How did MultiSlot Begin?
MultiSlot Ltd is the company behind Multislot software, incorporated and licensed in the Isle of Man. The company was founded in 2009, although their CEO Eric Jungels has been in the industry since 1997. When launching MultiSlot, Eric Jungels brought his expertise together with a team of highly experienced technical experts.
MultiSlot was established with the goal to create games and provide casinos with scalable software programs to operate on both online/mobile and land based platforms.
MultiSlot has developed their games in collaboration with bigger software providers but has also launched their own independent games.
What type of Slots and Games does MultiSlot offer?
MultiSlot is continuing to grow their selection of slots and other games. The games at MultiSlot are licensed for use in territories around the world which means they are available with multi-currency and multi-language functions.
Video Slots are the main feature, but MultiSlot also offers table games and video poker.
Table games comprise Baccarat, Blackjack, Craps and PaiGow poker.
Video Poker includes Aces and Eights, Deuces Wild, Jacks or Better and Joker Wild where each game comprises unique themes and a wide range of bet sizes.
The video slots feature specialty games, unique concepts, excellent graphics and interactive bonus rounds. Play slots such as: Big Game Safari, Chessmate, Rock n Rolls, Roulette, Slotboss and Slot Wheels.
Does MultiSlot offer a Progressive Jackpot?
Some of the MultiSlot games feature progressive jackpot games.
Does MultiSlot have a Mobile Platform?
MultiSlot has ensured their games are compatible with mobile devices with the aim to provide the exact gaming experience across all devices.
With a seamless integration the playing experience will mirror the games provided to online casinos. The games are available on Android, iOS, Tablets, iPhone and Windows Phone.
MultiSlot has also successfully launched their complete suite of casino games via Facebook.
Nov 28, 2018 by
Topboss Group
Casino Software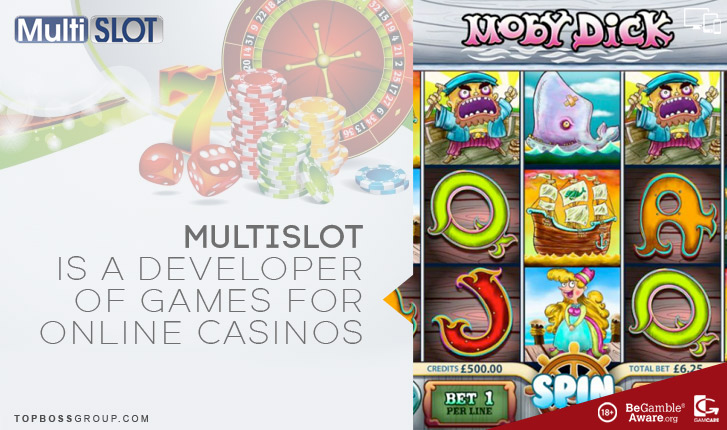 MultiSlot