In poker, money is made by the good players on the mistakes that bad players make.
It is that simple. Whenever you make a mistake, whenever you play a hand differently than you would if you could see the hole cards of your opponents, whenever you make a move on negative EV, you make a mistake.
Some of these mistakes are big, glaring ones, which cost you your entire bankroll, though most of them are small ones costing you a small part of your stack at a time.
Interestingly enough, the most dangerous mistakes you can make are not the big ones. The small ones are much more frequent, players are a lot less likely to catch on, and in the long-run these small mistakes are bound to cost a lot more than a big one.
A great example in this sense would be rakeback.
That's right, if you do not sign up for a rake rebate deal you commit a mistake which will come back to haunt you on every single real money hand that you play.
Rakeback is an edge which generates money on your every hand. Giving up an edge like that is contrary to the fundamental theorem of winning poker. By playing without rake back you might make money, you may walk away a winner yet, but the money that you give up will pile up and depending on the volume of your play can reach thousands of dollars a month.
Other mistakes which chip away at your bankroll like that are committed by rookies all the time.
Some of them play too many hands, and chase coin-flips, others overplay their hands all the time. Still others fail to make the most of their good hands.
Players are ready to put their entire stack on the line on a coin flip, on account of the tournament play they see on TV and the wrong conclusions they draw from it. In televised tournaments, the sight of players shoving all in on coin flips is something that comes about all the time. Those who regard these moves as standard strategy though, fail to consider that those players are pressured into taking desperate measures by a variety of factors, among which the escalating blinds are present too.
You can't just take that and apply it to your cash games: you're pretty much guaranteed to reach the felt extremely fast that way. Not only is this approach faulty from a common-sense perspective: mathematics proves it wrong too.
In a tournament, the escalating blinds don't just put a constant pressure on players, they alter the pot odds favorably too.
In the closing stages of a MTT, the blinds are so big that it becomes a mathematically correct decision to shove on just about any hand. In cash games, there are no escalating blinds and there are no improved pot odds or increasing pressure either. That means such "spectacular" tournament antics need to be removed from your play.
Your starting hand values should be different in a cash game which means you shouldn't be in a hurry to call someone's all-in when you're holding A,K for instance.
While in a tournament an A,K is a monster, (especially so in the late stages) in a cash game you'll be putting your stack on the line on nothing more than a coin-flip.
Those who know how to generate money at cash tables will not shove all-in unless they have a pair or at least an A,K, which means your A,K will not exactly hold EV+ in this situation.
Don't risk your stack on coin flips, and make sure you do not overplay hands you deem strong either.
There are quite a few tricky hands which appear extremely strong for a beginner (like flopping two low pairs on a board which has a Q, K or A on it) yet have a big potential for extremely nasty surprises.
Oct 02, 2019 by
Topboss Group
Online Casino Reviewer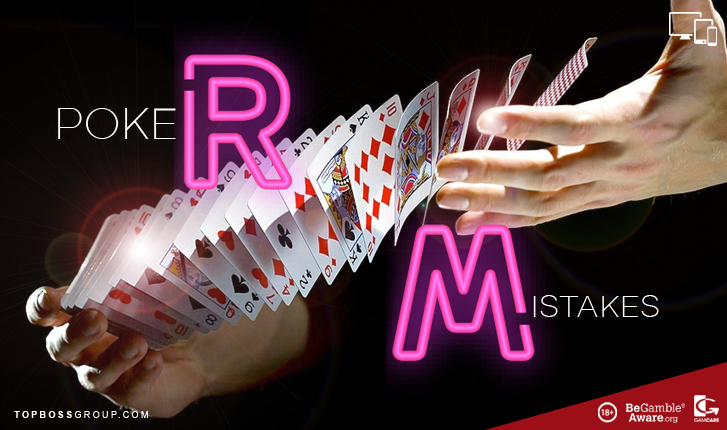 Common Mistakes Poker Players Make