Lottoland South Africa Ratings
Our review team has rated Lottoland on the categories below, and Lottoland South Africa scores an excellent 92% ratings overall.
Lottoland South Africa Features
Lottoland SA is a localised version of the internationally famous Lottoland business targeted towards South Africa. Meaning all of the wide range that players have come to expect with the safety and licenses they demand. Specialising in offering the best fixed-odds experiences available in South Africa. Lottoland quickly finds its place towards the head of the pack.
For players unfamiliar with the term, fixed-odds bets are when you place a bet on one or more contingencies in respect of the odds at the time of the bet. In other words, you pick the numbers that you think will come out, and if you guess, correctly you will win prizes. It is not the same as buying a ticket into the official draw, though under Lottoland's strict systems and licensing it is just as safe.
Claiming wins from Lottoland is a fast and straightforward process. Simply log into your account, head to the "My Activity" section, verify the account (if you haven't already done so), setup and select your payout account, and request the process begin. Withdraws on international methods can take 4-7 business days, and credit cards can take up to 15 business days, after which the amount won will be awarded in full.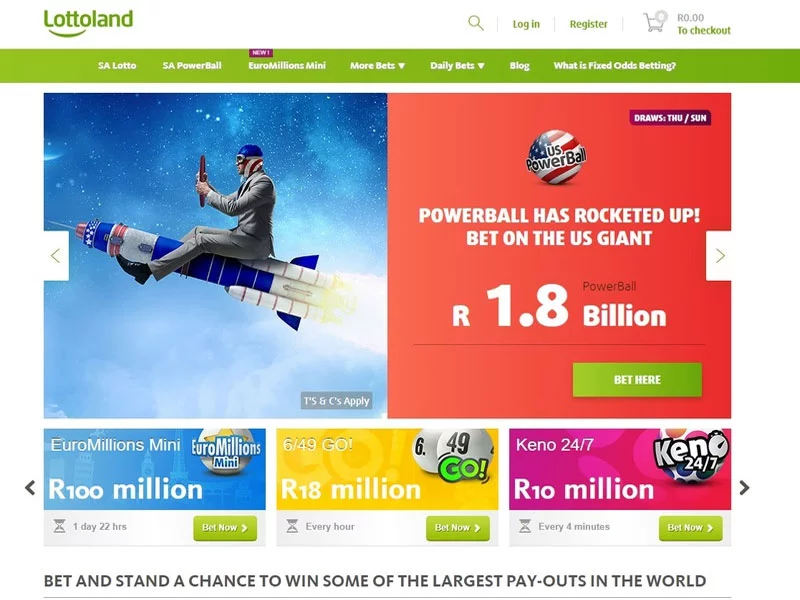 Lottoland Mobile App
Like any good modern mobile platform, Lottoland's is available through a couple of primary methods. The first is the downloadable app offered for free on their website. This app gives users additional advantages to the standard online experience. Moreover,  by providing quick access to account and game history. Furthermore, there are automatic win notifications, special offers and discounts, and more.
Alternatively, users can also simply access the website from a mobile. This method also holds up perfectly and scales well to Android devices.
Lotto Products Available
In terms of games on offer, Lottoland South Africa covers a broad range of lottery products for players of all tastes. Some of these focus on bringing forward the highest winnings possible, while others give players a cheaper way to play, while still offering considerable potential payouts. The games are listed in different subsections, with each giving a slightly different focus.
For most players, it is the international draws which are likely to be the biggest favourites. Including games like WorldMillions, MINI Lotto, and the German, French and Polish Lotto's. These give fantastic variety for those with a global focus.
There are several varieties of Keno games. Keno 24/7, KeNow, German Keno, and Multi Keno each offer a different take on the classic formula, meaning that fans of keno gaming always have a great way to play.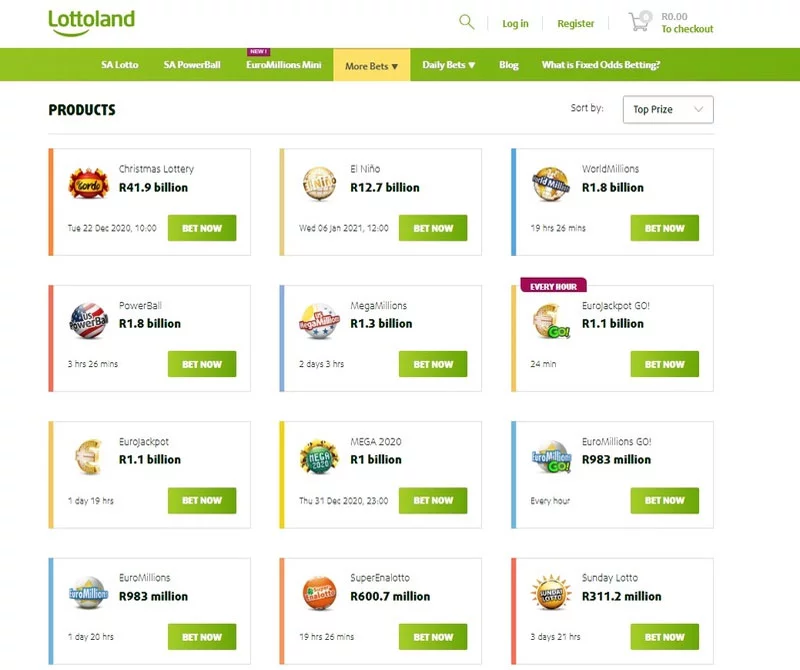 Guaranteed Safety
The Western Cape Gambling Board is the Licensee for Lottoland. They are backed by several leading insurers, therefore ensuring that top prizes are always paid out. Whether its R5 million or R500 million. Lottoland holds the world record for most significant online gambling payout ever, sitting at €90 million!
Conclusion
Lottoland is a rare gem among those we've reviewed, offering a far more targeted experience than many other services. This is not a website that aims to cover as much as possible. Instead, they focus on offering bets on the biggest games in the world, but still appealing to local players. For some, this selection might be too limited. For others Lottoland is one of the best platforms that South Africa has to offer.