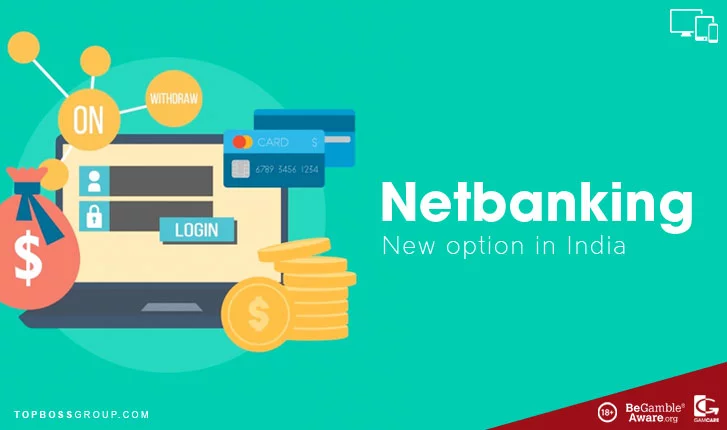 NetBanking – New Deposit Option In India
About NetBanking
Netbanking is a New Indian Deposit Option launched because Internet banking is becoming a common factor in India. It is due to the demonetization drive in 2016 as well as the Government's digital push further improving its adaptability.
Net Banking is online banking, also known as Internet banking and it's an electronic payment solution, and it's a fantastic new depositing option for depositing at Indian Online Casinos. It allows online players from India to make deposits through the Internet from the comfort of their homes, be it transferring funds or checking transaction statements. It's a superb option for those online gamblers as its safe, secure and deposits are immediate.
It is very popular with players at Casoola Casino India, Lucky Nugget and CasinoCasino.
What is Net Banking?
NetBanking is an Instant Direct Bank Transfer, and it utilizes many of the central banks in India. Besides the Instant Direct Bank Transfer, it also offers UPI which are Paytm, PhonePe and GPay all built into the solution. The minimum deposit when playing at online casinos using Net Banking is a 1000 INR which equates to 11.50 EUR.
Key Benefits of NetBanking
Apart from it being a convenient banking option Net Banking offers a host of additional benefits which are:
Saves Time
Financial transactions can be done24/7
Complete safety
Mobile access
How to Open a Net Banking Account
A Net Banking Account is a digital extension of your bank account it, however, requires you to generate specific digital passwords when opening one so you can transact over the Internet. To open a NetBanking Account, you need to follow these four easy steps:
Approach you Bank – Approaching your bank is the first step as you need them to enable an online banking facility for your existing account.
Collect your User ID and Password- for Netbanking to work you need a User ID and password, this is for logging into your internet banking account. The User ID is not the same as your account number
Generate New User ID and Password – You can create your own User ID, or the bank will provide you with one that is in a concealed envelope for security reasons.
Begin transacting online with NetBanking.
Indian Banks that Support Net Banking
Although not all banks support this online deposit option as yet here are a few of the most popular banks that do:
HDFC Bank
State Bank of India
ICICI Bank
Axis Bank
Kotak Mahindra Bank
Yes Bank
Punjab National Bank
What are the uses of NetBanking?
Once Indian players start using their Net Banking account, they will see how their perspective towards using simple banking services changes, no more delay or going into banking halls. Net Banking is most frequently used for several banking processes which are:
Use Net Banking to transfer funds immediately
Track and generate Statements
Pay Bills
Apply for Loans
Pay Insurance Premiums
Best Indian Online Casinos with NetBanking
Conclusion
Netbanking is a safe and secure deposit option for online players as it's immediate and more importantly, safe and secure. It allows players direct access to their banking accounts, whereby they can track their spending habits as well as winnings. Citizens can also open and transact in all six kinds of banking accounts that exist in India using Net Banking. Lastly, Netbanking also offers UPI (Paytm, PhonePe, GPay) which is built into the solution.