Frog Grog Ratings
Frog Grog has been rated by our slots review team and scores an awesome 80% based from the category ratings overall.
Frog Grog Overview
Frog Grog is a 5 Reel, 23 Payline video slot with Dropping Symbols, Multipliers and Mystery Bonus. Enter the Sorcerer's Lair filled with potions and other ingredients for a bubbling cauldron brew. Enchanting background music sets the mood with skeletons, candleholders and witchcraft books surrounding the reels. This is a mystical world where frogs drink grog and burp up big wins!
Symbols
Frog, Moth, Thistle, Beating Heart, Eyeballs, Blue, Green and Purple Potions
Betting Options
Bets range from 0.10 to 100.00
Wild Symbol – Frog
The Frog Wild substitutes for all other symbols helping to complete winning combinations.
When the Frog appears it will let out a big burp – not a particularly pleasant sound but it causes all the symbols in the frog's row and column to disappear, new symbols will drop down and new potential winning combinations can be formed.
Dropping Symbols feature
Every time a winning combination is struck, the symbols in question will be replaced by new random symbols, creating the chance for another winning combination to be struck.
Whenever a new win is created, the multiplier scale will advance from 1x on the first win up
to 7x on the 5th consecutive win.
Mystery of the Frog
This feature is triggered at random when no new dropping symbols can occur. The Mystery Game removes all symbols except for the Moth, Thistle and the wild Frog and throws them into the burning cauldron.
All of the removed symbols will award wins in accordance to the paytable up to a maximum equivalent of 5 symbols in-a-row. When the Mystery Game ends, the Multiplier increases 1x for each win during the bonus round.
Au­tos­pin­
Set the reels to spin automatically without interruption for a pre-set amount of times.
General
Frog Grog is certainly a unique game in which players can win even with non-winning symbols!
Aug 05, 2019 by
Topboss Group
Online Slot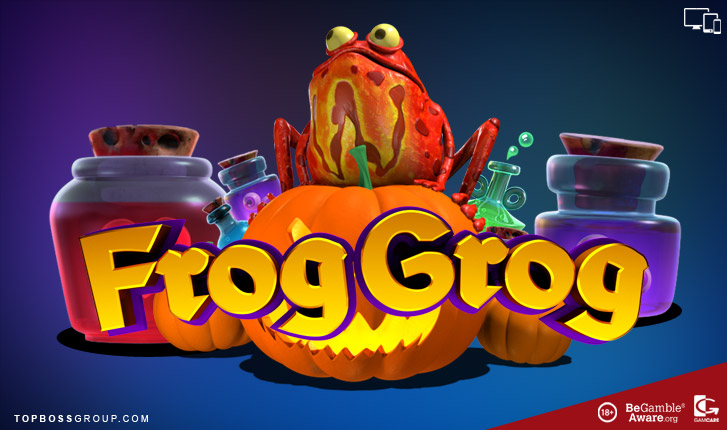 Frog Grog – Thunderkick Slot