0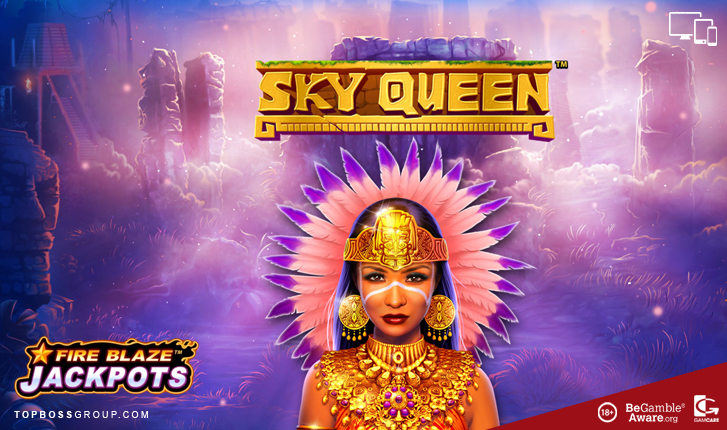 Fire Blaze Jackpot Series By Playtech Slots
Playtech will be entertaining us with a new slots series of jackpot thrills with the launch of their new Fire Blaze Jackpot slots series.
Fire Blaze jackpot slots is a series of games whereby Playtech introduces an exciting new feature which is known as the Hold and Re-spin Feature which allows players the chance of winning one of four different jackpots.
Fire Blaze Jackpot slots were launched in April 2019 introducing Sky Queen slot game and is the brainchild of Rarestone Gaming, a new acquisition to Playtech. The Fire Blaze Slots are a series based around ancient cultured themes which as history has proven is very popular among slots players.
Fire Blaze Jackpots
In this series of Fire Blaze Jackpots, you stand a chance at winning 1 of 4 progressive Jackpots and your chance at winning is in the Hold and Respin Feature. In order of the smallest jackpot to the largest:
Mini
Minor
Major
Grand Jackpot
Currently, there are 8 slots in the series, namely Eternal Lady, Sky Queen, Blue Wizard, Tsai Shen's Gift , Pharaohs Daughter, Golden Macaque , Jinns Moon and Legacy of the Tiger.
Legacy Of The Tiger Fire Blaze Jackpots
Legacy of the Tiger Slot RTP: 96.59%
Mobile and Desktop Slot
5 Reel x 50 Pay-lines
Betting Range: Min $0.10 – Max $500
Fire Blaze Jackpots: Mini, Minor, Major and Grand Jackpot
Free Spins, Re-spins, Multipliers and a Bonus Game.
Jinns Moon Slot Fire Blaze Jackpots
Jinns Moon Slot RTP: 96.58%
Mobile and Desktop Slot
5 Reel x 50 Paylines
Betting Range: Min $0.25 – Max $500
Bonus Games: Magic Lamp Free Games Feature, Moon Lock Free Games
Fire Blaze Jackpot Star Feature.
Fire Blaze Jackpots: Mini, Minor, Major and Grand Jackpot
Golden Macaque Slot Fire Blaze Jackpots
Golden Macaque Slots RTP: 96.50%
Mobile and Desktop Slot Game
5 Reel x 243 Paylines
Betting Range: Min $0.20 – Max $500
Bonus Games: Gong Bonus Free Spins, Drum Bonus Fire Blaze Respins
Fire Blaze Jackpot Star Feature.
Fire Blaze Jackpot: Mini, Minor, Major and Grand Jackpot
Eternal Lady Fire Blaze Slot Features
Mobile And Desktop
5 Reel 50 Pay-lines
Bet Range Min $0.10 – Max $500
Bonus Game: Free Spins & Multipliers
Featured Icons: Goddess Wild, White Rabbit and Lunar Scatter symbol
Fire Blaze Hold & Re-Spin Feature
Features Mini, Minor, Major and Grand Fire Blaze Jackpots
Sky Queen Fire Blaze Jackpot Features
Mobile And Desktop
5 Reel 50 Paylines
Bet Range Min $0.25 – Max $500
Bonus Game Free Spins & Multipliers
Featured Icons: Blazing Sun, Sky Queen, Gold Star
Fire Blaze Hold & Re-Spin Feature
Features 4 Fire Blaze Jackpots
Blue Wizard Fire Blaze Slot Features
Mobile And Desktop
5 Reel 30 Paylines
Bet Range Min $0.10 – Max $500
Bonus Game: Free Spins & Multipliers
Featured Icons: Crystal Ball, Blue Wizard
Fire Blaze Hold & Re-Spin Feature
Features Mini, Minor, Major and Grand Fire Blaze Jackpots
Pharaoh's Daughter Slot Features
Mobile And Desktop
5 Reel 50 Paylines
Bet Range Min $0.25 – Max $500
Bonus Game: Multipliers & Free Spins
Featured Icons: Sun, Pyramids, Pharaoh's Daughter
Fire Blaze Hold & Re-Spin Feature
Features 4 Fire Blaze Jackpots
Tsai Shen's Gift Slots Features
Desktop & Mobile
5 Reel 50 Paylines
Bet Range Min $0.25 – Max $500
Bonus Game: Multipliers & Free Spins
Featured Icons: Tsai Shen, Pearls, Mega Icon
Fire Blaze Hold & Re-Spin Feature
Features Mini, Minor, Major and Grand Fire Blaze Jackpots