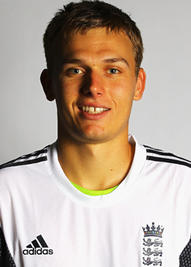 Hampshire spinner Danny Briggs insists he is only interested in reclaiming his county place and is putting England selection to the back of his mind.
Touring with the Lions
Danny Briggs is well thought of by England after touring with the Lions during the last two winters. His performances led to a one-day debut against Pakistan in February and many sports betting sites suggests it won't be long before a Test call-up.
However, the 20-year-old has had a tough start to the season on home soil. A victim of the English weather, Briggs has missed Hampshire's last four championship matches.
Seamer-friendly conditions and a resurgent Liam Dawson have stunted Briggs' progress, but he is determined to win back his place in the side.
"At the minute I'm just concentrating on Hampshire. To be fair all I'm doing is trying to play for Hampshire and concentrating on performing well for Hampshire," Briggs told sport news reporters.
"You want to do well in every game, and that might help in (England) selection."
Briggs praised the form of fellow left-arm spinner Dawson, one of the men keeping him out of the side. Dawson has combined spin duties with opening the batting. Briggs hopes the pair can mount a twin-spin threat when the warm weather arrives.
"Dawson has done a great job so far. It's good for the team and he adds balance," Briggs added.
"But the second half of the season when it is a lot drier then the both of us might get to bowl. And if we are bowling well it will help the side as well."
Danny Briggs will have an opportunity to press his claims for an England spot as the one-day campaign starts in earnest in the coming weeks. He should be in contention for the one-day series against West Indies, which begins on his home ground on June 16 2012.