Castle Builder Ratings
Castle Builder has been rated by our slots review team and scores an awesome 80% based from the category ratings overall.
Castle Builder Slot Overview
Castle Builder 1 is a Rabcat powered Slot with 5 Reels and 15 Paylines packed with various Bonus games which include a 'Pick-'Em' game.
Castle Builder is a 3D medieval-inspired game where the aim is to impress the King and win the heart of the Princess by building the most impressive castle.
The game plays on a 'Level' basis, start in one continent and move on to others with wins. In each continent another castle must be constructed.
The reels are situated on the right side of the screen and the castles which have to be built are on the left side. The stand-out animated graphics are beautifully drawn; the buttons and controls resemble flags and a shield. The reels come to a stop with a stone-like clunk, hear hammer and chisel sounds as a new turret gets added to the castle. Classical music in the background moves up in intensity as the castle gets closer to completion.
Symbols
King, Queen, Princes, Princesses, Builders, Treasure Chest, Money Pouch, Locked Door
Betting Options
Minimum Bet from 0.01 and Maximum Bet up to 15.00
Wild Symbols – Master Builder
The Master Builder Wild replaces other symbols when completing a winning combination, except for the Bonus Building Block symbols.
Building Block Symbols
The Building Block symbols appear in Standard, Bronze, Silver and Gold material.
Bonus Feature
Land at least 2 of the building materials on an active payline to receive the following:
Standard – 2 Building materials
Bronze – 3 Building materials
Silver – 4 Building materials
Gold – 5 Building materials
Getting more valuable Building blocks for the castle means it will be worth more when it's complete.
Once the castle is complete the King's daughter will appear, pick one of 3 possible suitors to marry her. Each suitor is worth a different prize amount based on the value of the castle.
After completing the initial 3 castles, an 'Emperors Medal' will be awarded. The next phase is to complete a set of smaller buildings within the kingdom. The same Pick-Em game will occur after each of these buildings is completed. Since they are smaller than the castles, the turn-around will be faster but the total prizes for the Pick-Em's will be a bit smaller.
Autospin
The Auto Play option can be used to spin the reels automatically without interruption.
General
The gorgeous background and design work with an interesting back-story provide a brilliant game. Castle Builder is a unique experience and fun to learn about the royal families!
Jul 26, 2019 by
Topboss Group
Online Slot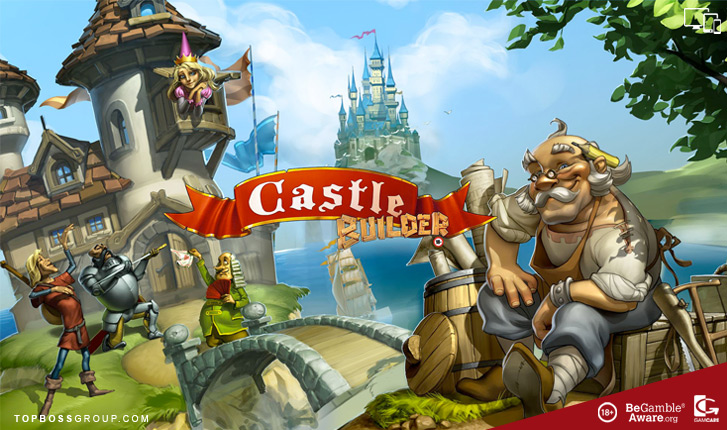 Castle Builder – Rabcat Slot Game