Apollo Power Slots Ratings
Age of the Gods- Apollo Power has been rated by our slots review team and scores an excellent 86% based from the category ratings overall.
Apollo Power Review
This slot Apollo Power is another in the Age of the Gods series by Playtech and comes shortly after the release of their previous slot game Ruler of the Seas.
Apollo was a God in Ancient Greek Mythology that ruled over many things and amongst those were archery, medicine, music and disease and was said to be a very complex man. This slot game however is not as complex as he was and focuses mainly on two of his domains, the Sun and the Light and is sure to keep you spinning until the Sun goes down.
Apollo Power plays out on 6 reels, 4 rows and offer players 50 ways in which to win and this slot is of medium volatility with a maximum potential win of a 1000x your bet. There's more, players can trigger one of their 4 random Progressive Jackpots on any given spin, this adds some spice to the game and gets the heart rate pumping because you never know when it could be triggered.
Apollo Power Game Symbols
Age of Gods- Apollo Power comes with a Wild Symbol (SUN) that will pay you 20x your bet and as always the God and main character of this slot game Apollo will pay you 12x your bet. The game also comes with 5 medium value symbols which are:
Sword – 3.2x your bet for 6 on a payline
Bow and Arrow – 2.4x your bet for 6 on a payline
Harp – 2.4x your bet for 6 on a payline
Laurel and Wreath – 1.6x your bet for 6 on a payline
Ring – 1.6x your bet for 6 on a payline
There are also the usual low value royal symbols that will pay out 1x your bet for 6 on a payline.
Apollo Power Game Features
Re-Spins Feature:
When the Sun which is this games Wild Symbol lands anywhere on the reels it will trigger the Apollo Re-Spins Feature and it will pay 20x your bet when you land 6 on a payline. What's interesting is that on every Re-Spin the Sun Wild moves around and lands on different positions and the Re-Spins feature will continue until the Sun returns to its original triggering position.
Apollo Power Progressive Jackpots:
Players who don't know this will be enamoured to know that Age of the Gods-Apollo Power slot is part of the Age of Gods jackpot network which means whilst playing you could trigger a random jackpot, one of 4 to be exact.
If and when the Jackpot is triggered you will see a 4×5 grid of gold coins and you will then choose gold coins and reveal jackpot symbols. Once you have matched up three matching jackpot symbols the corresponding jackpot is all yours.
The four jackpots are Power, Extra Power, Super Power and Ultimate Power.
Apollo Power Game Verdict
The Age of the Gods-Apollo Power is inspired by the Sun God Apollo and just like the Sun this game shines making it an appealing game. The graphics are exceptional as are the sound effects and the main feature of the game besides the Progressive Jackpots is the Re- Spins Feature where you can win up to a 1000x your bet now that's something to give any player a sunny disposition.
Although the win potential is not huge on this medium variance slot, players still stand a chance to win big on the pooled jackpots and the excitement and anticipation that comes with waiting for a jackpot to be triggered randomly definitely adds extra thrill to this new and fabulous slot Apollo Power.
Oct 21, 2019 by
Sharon J
Online Slot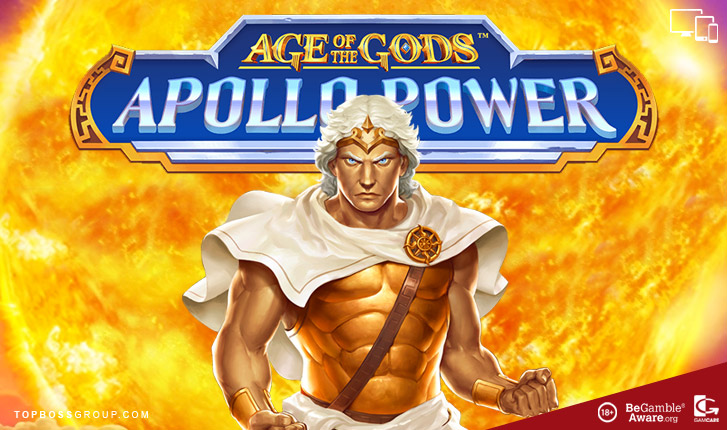 Apollo Power Age of the Gods Slots By Playtech