All American Poker is a standard video poker game whereby players are dealt 5 cards from a standard deck of 52 cards.
With a jackpot of 4000 coins, the aim of the game is to get a five card hand with a winning combination. Players also get to choose how many cards will be replaced.
Bets range from 0.10 up to a 100.00 with a choice of up to 5 coins per game. Once the coin value has been chosen, you can choose the number of coins you wish to bet in 3 different ways. 1- is to click on the "Bet One" multiple times to increase the number of coins, "Bet Max" automatically enables a 5 coin bet or you can click on one of the 5 columns on the pay table.
The best hand and thus the biggest win is a Royal Flush with a 5 coin bet with a jackpot worth 4,000 coins. The 2nd highest win is a Straight Flush on a 5 coin bet or a Royal Flush with a 4 coin bet where you will win 1,000 coins. The lowest win is a pair of Jacks and any pairs higher than the Jacks also give you a win.
Gamblers don't play against each other but rather against the house, which is great as your winnings are determined by the strength of your hand and not on anyone else's.
With the bonus feature, you can double or double half of your winnings in a bonus card game by picking a higher card than the one selected by the machine.
As with all games it takes a while to get used to the pay outs and figure out a strategy, and this is where the free play will come in handy.
All American Poker may either be played for fun or played for real money, but its best to play for fun until you are more confident to use real money.
All American Video Poker Screenshot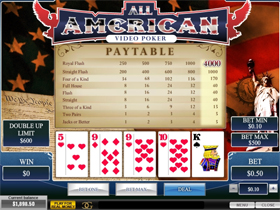 Oct 02, 2019 by
Topboss Group
Online Casino Reviewer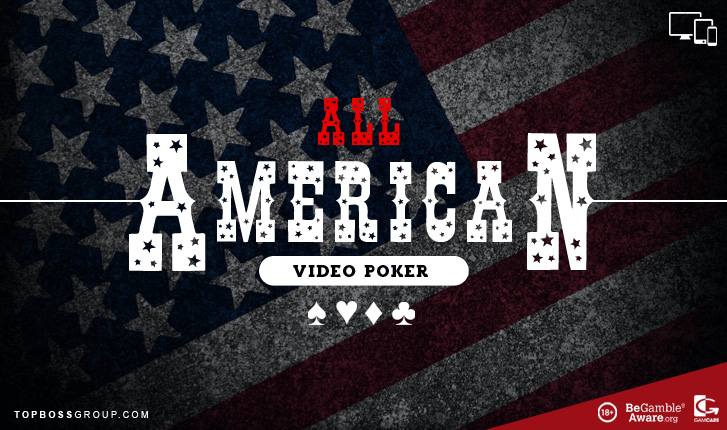 All American Video Poker – Playtech Game