When visiting a new online casino chances are you're going to be offered a bonus to welcome you as a new customer. Now we can obviously all see that this is an attempt to curry favour and buy your loyalty and continued play but still casinos are offering hundreds, sometimes even thousands to join them.There must be a catch mustn't there?
Not a catch as such but there are terms and conditions which new customers need to be aware of before signing up at casinos offering a no deposit bonus. If you're not happy with these terms you can always opt out and play without.
Some casinos automatically add a bonus with your first deposit, which is not ideal as many people don't like taking bonuses due to the playthrough requirements or minimum bet limitations.
Others give you the option to enter a Bonus Code in order to claim the bonus, and some ask you to contact Live support and request the bonus. You can normally find out which option the casino uses by reading their Promotions page on their website.
Types of Bonuses
There are usually 2 types of bonus, a deposit bonus i.e. the casino giving you an amount of free money related to the amount of your own money you deposit to play with or a no deposit bonus where the casino gives you free money without you needing to deposit at all.
Whilst terms are different from casino to casino they'll broadly speaking contain the following kind of general things that you need to be aware of. You won't be able to immediately withdraw these bonus funds you'll have to play through them in the casino before making a withdrawal and usually the amount of times you need to play though these funds will be in the region of 20-30 before being allowed to take any funds out.
Also the way in which you play through these funds may be subject to certain game restrictions, again it varies from casino to casino but some games may not count at all and/or other games may only count a limited amount towards your play-through requirements.
Also keep in mind that some bonuses are also limited to a maximum bet per spin, so be careful not to exceed the maximum bet allowed in the Bonus terms and conditions as this will make any withdrawals / cashouts null and void.
Not All Bad News
However it is not all bad news – Many Bonuses are a great help and makes your bank roll last a lot longer. Just be aware of the terms and conditions before accepting a bonus and you will be fine.
We would also suggest when you are looking for Online Casino Bonuses – It is always best to go onto a site that is in your home language, so that you can understand the bonuses thoroughly.
Oct 02, 2019 by
Topboss Group
Online Casino Reviewer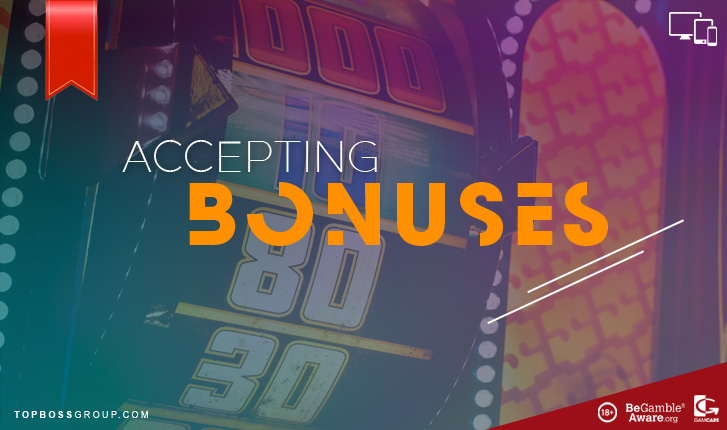 Accepting Online Casino Bonuses