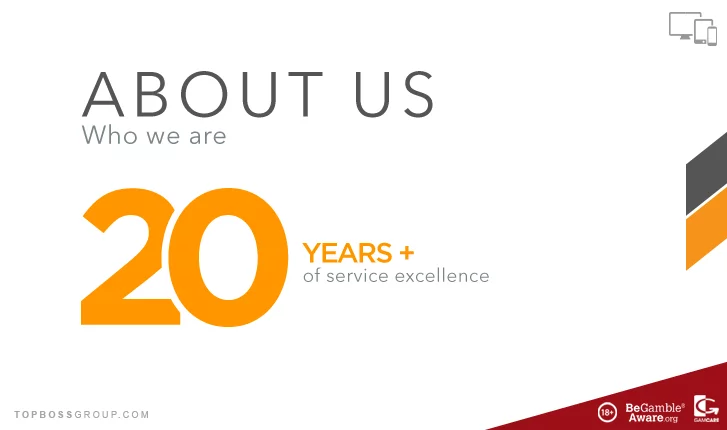 About Us and Company Profile
Topboss Group was established in 1999 and has launched an average of 10 websites per year and has now grown to over 160 sites within the group and has branches in Africa and New Zealand. The Founders have 20 years of experience within the gambling arena and are Accredited by Casino Affiliate Programs (CAP) and Gambling Portal Webmasters Association (GPWA)
Our Mission and Vision
At Topboss Group, our mission is to provide a valuable "Global Gaming Network" in which potential online players can bet and win money at reputable online casinos within online gaming markets. We have a global reach in the promotion of online gaming, forming a network of websites geographically. We leverage this position to provide optimum access to the complete spectrum of online casinos
Our vision is "To establish an understanding and honest working relationship in the online casino industry to provide all players the most rewarding, fair and honest gaming experience". By doing this, we aim to build and maintain our position as market leaders, using our solid reputation and proven expertise to maximise your exposure and provide expert guidance in the promotion and advertising of online casinos.
Our Values
From the inception of our business we made the decision to do everything the right way, above board and with honesty and integrity. We target regulated markets and continue to build relationships by doing the right thing incorporating:
Honesty and integrity in everything we do
Respect for the environment, our clients and each other
Teaming to promote the best interests of our clients
Professionalism that is transparent
Innovation in the way we use technology
Customer satisfaction that advertises our business
Continuous improvement in the way we work
About Topboss Group's History
Topboss Media has its roots in Topboss Group which was originally established as a partnership by Heather and Andy in 1999. From humble beginnings and only one website to start, our company developed two more websites in 2000, and has averaged the development of ten websites a year since then. We currently have one hundred and sixty sites within the group.
We have 20 years of experience within the gambling arena and have been approved by Gambling Portal Webmasters Association ( GPWA). Our resolve from the start was to be totally honest and run our business entirely legitimately with no underhand practices. This philosophy has never changed.
We are leaders in our field and have a solid reputation in the industry. Our proven expertise gained over the years as an affiliate to major online casinos world wide will provide you with expert guidance to promote effective brand awareness for your sites by sending you high volume traffic.
Team Leaders
We have developed a culture based on mutual respect and teamwork, which promotes initiative and development, creating a work environment of happy and motivated staff. Key team members include:
Heather – Business Owner originally from a banking background with many years of experience at management level in both South Africa and New Zealand. Previously a Senior Manager at a large financial institution, Heather is very hands-on and is the liaison between the clients and Topboss. She primarily manages marketing, advertising, accounting functions, payroll and website design.
Andy – Senior Fire Officer, turned Business Owner, ensures both company and meeting client needs are above standard. Andy develops business strategies and customer solutions, targeting high-end results with a passion for SEO and research and development.
Frank – Comes from a telecommunications background with a great depth of managerial experience at a senior level with major international organizations. Frank covers the budgeting, client accounts, marketing and general administration.
Jan – I.T. Technical Manager – Jan has been with the company for over 14 years. He is currently responsible for the I.T. infrastructure of the company ensuring all I.T. related issues are addressed in the quickest and most effective possible way to ensure maximum uptime. He also enjoys programming, is fluent in various online as well as offline programming languages and is continually seeking to learn about new technologies and developments in the industry to keep the company ahead of its competitors.
Shaun – Young keen and eager to take Topboss Group to the next level no matter what it takes. With 12 years in the web designing field and a degree in graphic design, he certainly does bring that "creative" look to what we need in today's vastly changing graphic world. He quotes, "The only thing stopping you from being successful is your mind". Shaun is a big soccer fan and loves to get out on the water for a good days fishing.
Our Successes
Testimonials from some of our key clients
"We have enjoyed working with Topboss Media for many years. In this time we have found them to be reliable, honest and caring. Topboss is a world class company with a very personal approach. We always receive a detailed, personal response to ALL emails within 24 hours. It's really a breath of fresh air working with a group that care so much about their clients and treat them like a close friend. We would recommend Topboss to any Casino or Advertiser looking for top results". Paul D (Deck Media).
"I have been working with Heather from Topboss Media for more than 3 years and can definitely say that she is a super professional, communicative and friendly person that I have come to know within the industry. Heather has a lot of knowledge and experience in the Search Engine Optimisation (SEO) field and online marketing, with great personal skills – always willing to help out or give good advice which will be based on excellent past experience. I have nothing but good things to say about Heather and the company she represents". Yuli Berg (Daily Media Ltd).
"Topboss Media have provided us with an excellent service which is tailored to the specific and relevant needs of our organisation. They have succeeded in providing us with support in our websites promotion. Especially, thanks to Heather Gartland for her excellent work, dealing promptly and professionally with our issues. It is an absolute pleasure to work with you". Olga and Eugene (Let-Poker.com)
"There are many great advantages when partnering  with Topboss and we have summed up some of the best: At Topboss everyone is very professional and always cooperative, Topboss knows exactly how to target traffic bringing us quality players and their websites are very eye-catching with great graphics. A great SEO networking team". Inbal Levi-Hevroni (Affiliate Manager I Affiliates.com)
"We have found working with Topboss to be a pleasure and it's really good to actually have a proper relationship with people you've never met. Our main contact, Heather, has always helped us get things set up very quickly and she always sticks to her word. We'd definitely recommend Topboss to other people/companies in our industry and I hope they go from strength to strength". Celia Roche (OMRUK)
"We've had the pleasure of working with the Top Boss group for some years now. From early on our business partnership evolved into a successful sustained relationship which has only improved over the years. We've found Top Boss to be dynamic, hard working and able to execute successful marketing strategies." Elliott  (Affiliate Manager Focal Click )
In Conclusion
We will provide you with a value-driven service as leaders in our field with a solid reputation in the industry. Our proven online casino expertise gained over the years provides you with expert guidance to promote effective brand awareness for your sites by sending you quality traffic. Contact Us today to see how we can help your casino grow.
Latest Topboss News
Have a look at the Topboss Blog for all the latest Topboss News
Topboss Group QR Code
To access our website anytime, anywhere, then just save our QR code All you have to do is scan the QR code with your smartphone's barcode reader (downloadable from the Android Marketplace or iPhone Appstore) and your phones browser will instantly be directed to Topboss Group.